Ensuring trusted access for a connected and evolving digital world
Secure identity management has become a critical component of organizational security. This includes secure access to your private networks, applications and buildings. You also need to authenticate the identities of your users and their devices. But passwords are too vulnerable, and compromised credentials are one of the primary causes of serious and costly security breaches.
The complex technology models that have evolved over the last decade have transformed financial institutions, governments, and enterprises—requiring new ways to reduce costs and improve user experiences and security across geographies and networks.
Traditional two-factor authentication identity management has an excessively high total cost of ownership — and it frustrates users. The proliferation of applications, mobile workers and bring your own device environments is accelerating the problem.
Authentication technologies provide the best way for your organization to fight remote attacks, exploitation, and attempts to take over your accounts. Entrust IdentityGuard offers a broad range of authentication solutions built on decades of identity management and security expertise to help organizations like yours provide strong security and trusted access.
Entrust IdentityGuard creates trusted environments for many of the world's most security-minded organizations. Our software authentication solution ensures strong security for online and mobile transactions — as well as protected access to websites, VPNs, enterprise and cloud apps, portals, PCs, buildings, and more. Entrust IdentityGuard provides a convenient single point of administration— and allows you to embrace the full potential of mobile and the cloud as your organization evolves.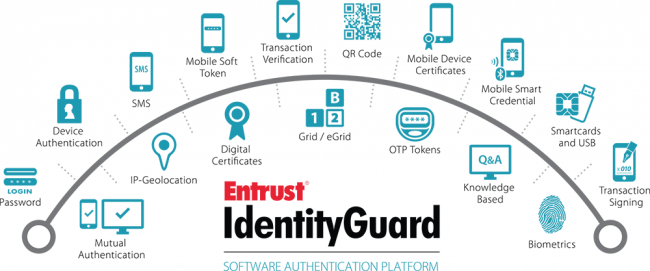 Entrust IdentityGuard offers mobile-enabled authentication for authorized users as they navigate the world that is always connected and rarely secure.
Our authentication platform addresses a range of needs that include:
Physical and Logical Access
VPN access
Transaction Verification
Digital Signatures
Federation to Cloud-Hosted Applications
Entrust security experts help organizations like yours build real relationships based on trust, ensuring frictionless authentication experiences for the consumers, citizens or employees you serve.