Threat Intelligence Platform
RiskIQ is branded as a market leader for its digital threat intelligence platform that provides investigative, visibility on the digital & emerging threats integration based on its threat intelligence data source. Without complete visibility across the digital attack surface, hidden risks stay hidden. At the same time, threat actors target unnoticed weaknesses with cheap and easy techniques like JavaScript injections. These threats harm the enterprise through the hard costs of fraud and data theft, along with lost customers, lost trust, and lost revenue.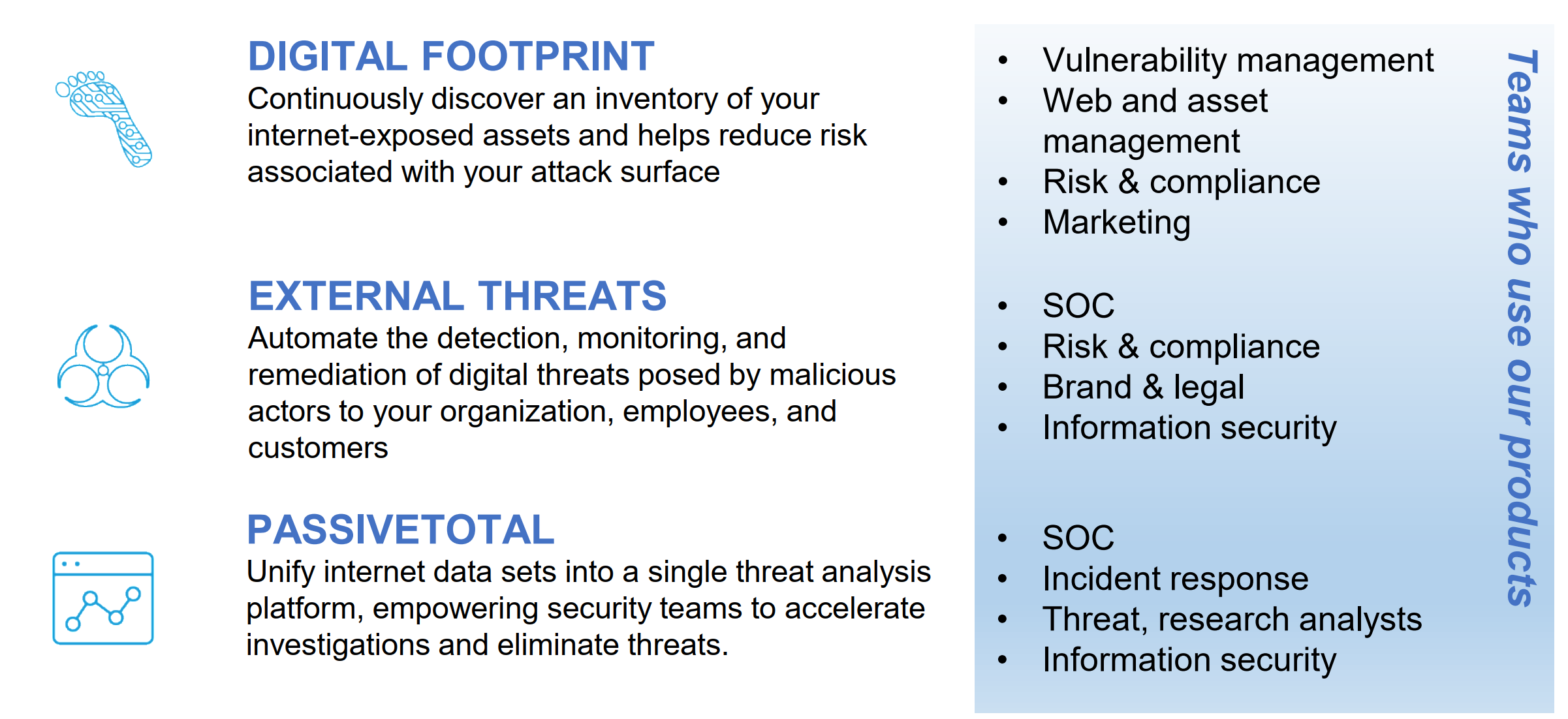 Digital Footprint: Discover Unknowns
RiskIQ's Digital Footprint continuously discovers and scores your digital attack surface—no agents required. By leveraging human-web simulation and smart crawling, security and IT teams get an 'outside-in' view of their attack surface and extend their vulnerability/exposure control beyond the firewall. With a clear view of their digital attack surface, our customers can identify unknowns, prioritize risk, and eliminate threats.
For more information on RiskIQ's Digital Footprint, click here.
External Threats: Automated Detection & Monitoring
RiskIQ External Threats automates the detection, monitoring, and remediation of digital threats posed by malicious actors to your organization, employees, and customers. Utilizing virtual user technology, advanced machine learning, and petabytes of RiskIQ internet data, External Threats finds fraudulent websites, domains, social profiles, and mobile apps as they emerge, determines their threat severity, and empowers security teams to take action to mitigate the specific risks
For more information on RiskIQ's External Threats, click here.
Passive Total Enterprise: Investigate Threats
RiskIQ's Passive Total Enterprise gives a single, unified view that gives them insights to find digital exposures, hunt threats and automates investigations. Using infrastructure-chaining, Passive Total pinpoints threat actors, and their tools by linking relevant internet data. Scale investigations and security teams with analyst insight—sharper focus, prioritization, and faster response.
For more information on RiskIQ's Passive Total Enterprise, click here.
Illuminate: See everything. Take action.
RiskiQ's Illuminate helps safeguard the digital enterprise by discovering attacker-facing assets—known, unknown, malicious—visibility and control across the digital attack surface.
For more information on RiskIQ's Illuminate, click here.
Executive Guardian & i3 Services: Incident Investigation
RiskIQ's Incident Investigation and Intelligence (i3) team's attack surface management service and products discover and investigate your company's true risks and vulnerabilities. We partner with your physical and cybersecurity teams enabling them to "speak the same language" and develop a process that better safeguards your company and the individuals with the most risk.
For more information on RiskIQ's Executive Guardian, click here.
RiskIQ Report Highlights & Datasheets