nSignQR
Trust in physical documents
Previously known as nSeal, nSignQR ensures the integrity of your physical documents with the use of digital signatures embedded in QR codes.
nSignQR preserves data integrity and assures authenticity of physical documents like contracts, share certificates, academic certificates, product authentication statement, etc. This is achieved through the use of digital signatures – digital codes generated and authenticated by public key encryption – which are attached to the documents to verify their content and the signer's identity.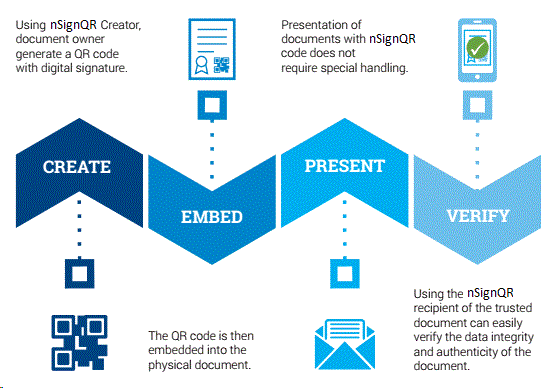 Here is a sample document showing nSignQR in action.
Click on image to expand, then use any standard QR code scanner to scan the embedded QR code and see how it provides you instant verification of the document's content and issuer.
Authorized nSignQR Partner-reseller
nSignQR embeds the digital signature as a QR code onto the document and protects your originals from forgery and tampering, which can be read by any QR code scanner.