Netrust nSignCore is a solution suite that further enhances your business application with strong Public Key Infrastructure (PKI) authentication and digital signing API capabilities on any file types, for example, PDF, Microsoft Word, Microsoft PowerPoint, Text; and can work on web, mobile or desktop, delivering freedom of choice, compliance and a seamless user experience.
Traditional signing requires physical presence, verification via the naked eye, and in some cases, multi-page endorsement. With nSignCore, Digital Signing via API can be done simply at your convenience and verification automated offline or online. Combined with a digital certificate issued by Netrust, the only Accredited Certificate Authority in Singapore, your digitally signed documents will be legally binding under Singapore's Electronic Transactions Act. Netrust nSign suite allows access from office desktops, laptops, and also from mobile devices. It offers a choice in terms of different form factors for key storage (hardware token or mobile) and keys stored remotely protected by Hardware Security Modules.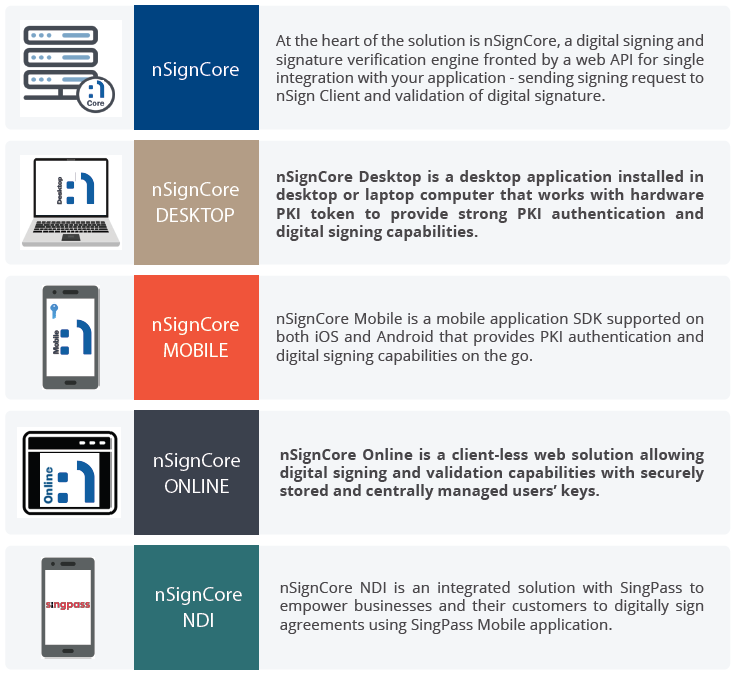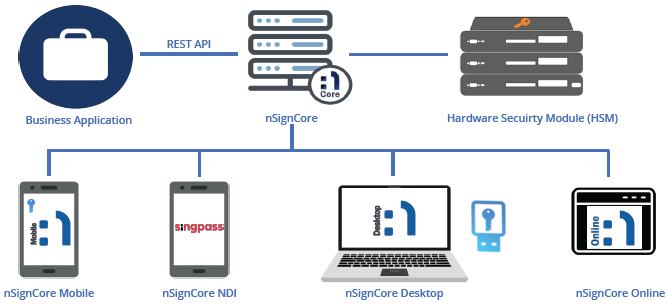 Built upon solid security policies and best practices, nSignCore is designed to integrate with your legacy systems and can be used as a standalone application to make it Interoperable and language agnostic. It is now easy to integrate with your existing application to perform Digital Signing via API, by sending a signing request with your document to nSignCore. nSignCore will automatically route the document to either nSignCore Desktop, nSignCore Mobile, nSignCore Online or nSignCore NDI. Once the signing is done, nSignCore will return the signed document back to your business application.